Would you like to leave? Right now, this Friday? You prepare a small bag and we leave. You take the train or the plane, and you disappear for two days. You have never tried it and you wonder how to do it? Follow our guide to go on a last-minute weekend trip to Paris. Go all the way, we even tell you where to sleep 😉
Why leaving for a last-minute weekend trip ?
You will tell us, why go on a last-minute weekend trip? What is the point? After all, I prepare all my weekends in advance and that's fine. What we will answer…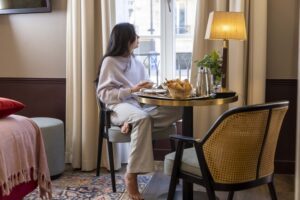 To get away from everyday life
It happens that everyday life becomes heavy, and that a break away from home is essential. In that case, why wait? In France, we are lucky to have good air transport and many train lines, with a very wide choice of destinations.
By the sea, in the mountains, in the city, in the countryside, even by car, you can leave in last minute. And believe us, there's nothing like changing the air and setting to catch your breath. Try it, you won't regret it.
The advantages of a last-minute weekend trip
You are used to plan your trip. Anticipation of the place, the mode of transport, the accommodation, the activities to be done on site. Imagine that there are significant advantages of leaving at the last minute:
Last-minute offers: whether in transport or in a hotel, you will certainly find very attractive rates. Besides, the price can also give you ideas of destinations.
You will benefit even more from each discovery because you will not have thought about it weeks beforehand.
You will let yourself be guided by your instinct, your desires, much more than by your program.
Where to leave for a last-minute weekend trip ?
The idea of leaving now, tomorrow or Friday has made its way, but now and before taking the train tickets, the question arises: where to go? We recommend Paris without any doubt. Paris is a city where you never get bored, day or night. Whether this is your first stay in Paris or not, you will always find something to do or new visits to make.
Romantic stay
Paris, the city of love. Who has never dreamed of spending a romantic weekend in Paris? Walk along the Seine river, gourmet dinner, visit to the Rodin Museum, evening in a piano bar…
Solo travel
A weekend in a city is perfect for a solo trip. Museums, gardens, guided tours, Paris is full of meeting places, sporting or cultural.
Weekend with friends
Celebrate, laugh around a good table, take a break along the Saint-Martin canal or take a selfie at the top of the Eiffel Tower… So many memories to create with friends in Paris!
Family stay
Contrary to popular belief, Paris is a perfect city for a family trip. Many museums offer workshops for children, there are large green spaces or parks with games for children (slides, trampolines, etc.), and you will always find a children's menu in the restaurant. Of course, an amusement park like Parc Astérix or Disneyland Paris is a good idea to seduce the youngest. And no need to wait for family holidays, a weekend is enough to get together!
The good recipe for a last-minute weekend trip to Paris
Find the good area to stay in
Paris is a wonderful city. But during an improvised weekend, when there is no plan, it is better to opt for the center of Paris. Saint-Germain-des-Prés is an excellent choice since the district is located in the very center of Paris. It makes it easy to get around on foot or by public transport. Moreover, Saint-Germain-des-Prés is very lively, day and night. Which makes it very pleasant and safer than other places in the French capital.
In Saint-Germain-des-Prés, you will find all the essential shops and you will even be able to spend a whole weekend in Paris without using public transport!
Get the right information
Since you will not have planned your whole weekend, you should at least know where to find information on site. First, get a metro map, which is also a map of Paris, and ask where the Seine is. A good way to get around the city.
Then buy the Officiel des Spectacles magazine. This small magazine lists all the exhibitions, plays, cinemas of the moment, by district.
Ask your hotel for restaurant recommendations. The staff is generally of good advice, particularly at the Welcome Hotel 😉
Find a few gourmet addresses
Regarding restaurants, in Paris, you will find all the culinary specialties of the world and for all budgets. Here are some recommendations in the center of Paris:
Choose a hotel
Finally, to choose your hotel well, target a district. Saint-Germain-des-Prés, the 6th arrondissement to be in the hyper center. Look on Booking.com to compare prices, or on Google Map to decide on the location and then call the hotel directly. Thus, you will benefit from a perfect location at the best price.
The Welcome Hotel Paris, perfect for your Parisian weekend
In the deep heart of Paris
Located in the very center of Paris, the Welcome Hotel dominates the corner of Boulevard Saint-Germain and Rue de Seine. It welcomes you to the vibrant soul of Saint-Germain-des-Prés, a stone's throw from the Odéon (lines 4 and 10) and Mabillon (line 10) metro stations. Leaving the Welcome Hotel, walk along the café terraces and art galleries to reach the Seine river and the Pont des Arts. On the other side of the river, the Louvre Museum and the right bank.
To get to the Welcome Hotel from train stations and airports, nothing could be simpler:
Charles de Gaulle or Orly airports: RER B to Saint-Michel-Notre-Dame then line 4 to Odéon. You can also walk from Saint-Michel-Notre-Dame.
Gare d'Austerlitz: direct with metro line 10, Odéon station.
Gare de Lyon: direct with bus 63, Saint-Germain Odéon stop.
Gare de l'Est & Gare du Nord: direct with metro line 4, Odéon station.
Gare Saint-Lazare: direct with metro line 12, Sèvres-Babylone station.
Amazing value in Saint-Germain-des-Prés
You will not ignore that there are many hotels in the streets of Saint-Germain-des-Prés. But you will be surprised to learn that the Welcome Hotel is one of the few two-star hotels in the area. Its prices are thus more attractive than other establishments in the 6th arrondissement and its incredible quality/price ratio is very often mentioned in customer reviews.
Equipments and services
Regarding the hotel itself, it has just been extended on the ground floor and now offers a trendy lobby and a breakfast room. The reception, open 24 hours a day, is always available to accompany you during your short stay in Paris.
The hotel offers different types of rooms, from Single to Deluxe. All rooms are equipped with:
Free WIFI
Courtesy tray
Individual air conditioning
Flat screen TV
Private bathroom or shower with welcome products and hairdryer
Safe
Blackout curtains, …
Every morning, breakfast is served in the breakfast room or in your room, from 7:00 am to 11:00 am. Sweet/savory buffet in the dining room or continental version in the room. In fine weather, you will enjoy breakfast on the terrace facing the rue de Seine which is awakening.
Rates at Welcome Hotel for your last-minute weekend trip to Paris
The best way to get the best rates is to call or email the hotel directly. You will then have the possibility of taking a room with free cancellation until 2 p.m. on the day of arrival, or with cancellation 7 days before arrival. In the case of an impromptu weekend, chances are you will choose the first option.
Also note that all our offers are available with breakfast included.
So, ready to go to Paris on a whim?
Call us : +33 1 46 34 24 80
Email us : welcome-hotel@orange.fr