Location is essential when searching for a vacation or a business trip. Then comes the accommodation and in Paris we are more than 1800 hotels! Saint-Germain-des-Prés is one of the most attractive areas of the city and this title is well deserved! Located in the center of Paris, near the main touristic sites, lively and mythical! We will help you determine where staying in Saint-Germain-des-Prés! A hotel in Paris center: The Welcome Hotel of course 😉
As you can see in the photo above, Welcome Hotel is ideally located in the heart of Parisian activity. Its pretty terrace rue de Seine is typical of the district. Our guests enjoy their breakfast while contemplating the awakening of Paris, or rest after a long day and enjoy the special atmosphere of Saint-Germain-des-Prés. Because staying in Saint-Germain-des-Prés is immersing yourself in the history of the city, diving into the novels of yesterday and breathing art and literature!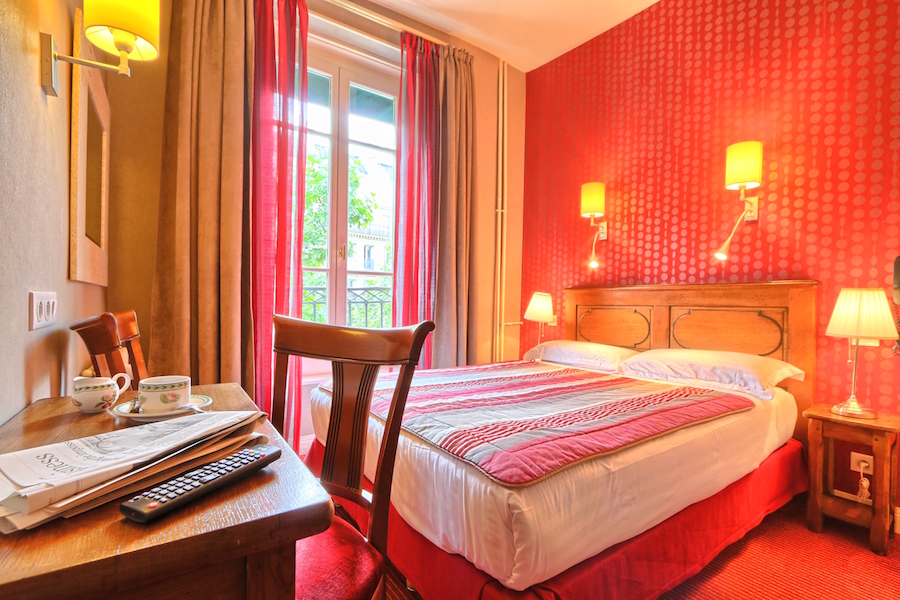 In our hotel in Paris center, you will find all the necessary comfort for your trip. Our rooms, of very Parisian sizes, offer free wifi, air-conditioning, heating, tea and coffee facilities, privative bathroom, black-out curtains … And our team is a perfect guide! Koert and Eric, our loyal receptionists, always have good recommendations. Whether in restaurants, exhibitions, walks, shops … Do not hesitate to ask their opinion, you will not be disappointed!
Staying in Saint-Germain-des-Prés, a Hotel in Paris center
Welcome Hotel is at the corner of boulevard Saint-Germain and rue de Seine. The fruit market, delicatessens, terraces on rue de Buci, smell of hot bread … everything is mixed in a village atmosphere! We are fortunate to welcome you in one of the most beautiful areas of Paris and as our customers say: "by offering one of the best value of Saint-Germain". Then visit our website and book your next stay in Saint-Germain-des-Prés.