It is not necessarily easy for travelers to know the differences between a 2 star hotel and a 3 star hotel. Indeed, as a hotel, we know the grid, which changes with each classification period, but our guests sometimes need benchmarks. So, if you are wondering why booking a 2 star hotel in Paris , we will light up your lantern …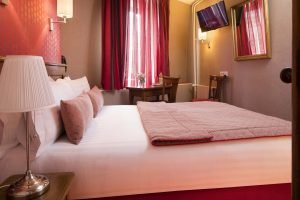 Why booking a 2 star hotel in Paris is a good idea
Services and equipments of a 2 star hotel
For each new classification, every 5 years, a grid is developed to allow hotels in cities and provinces to access the number of stars they desire. This grid is made up of compulsory points and optional points. It must be said that location, area, and other external factors create disparities between accommodations. Without being completely exhaustive because you might get bored, here are the main criteria for a 2 star hotel.
In the rooms :
Color television 
Bedding in the regulatory dimensions with an independent switch at the head of the bed
A draw sheet, a bedside table and additional bed linen on request 
A free plug in the room 
A wardrobe with 5 hangers and a shelf
A table or a desk 
Blackout curtains
Wifi connection…
In the bathrooms :
Private bathroom with bathtub or shower, toilets and welcome amenities
Sink with mixer tap, hot and cold water 24 hours a day
Two light points, one of which is above the sink 
A shaver plug or an ordinary plug
A trash can and a coat hook
In the hotel :
Heating system 
Surfaces to be respected for common areas, bedrooms and exterior areas
Toilets facilities
Wireless 
Baby equipment on request 
Reception staff speaking at least one foreign language and on site at least 10 hours a day 
Up-to-date website with the ability to book online 
Payment by credit card 
Breakfast respecting a number of product ranges imposed and served in a dedicated area, …
Of course, during the inspection, all equipment must be clean and in good condition.
The advantage of a 2 star hotel in Paris
As you can see from the items listed above, a 2 star hotel offers simplicity and efficiency. The options, as you will see below at the Welcome Hotel, still improve the comfort of the rooms. The main advantage of a 2 star hotel in Paris Center is its price. Indeed, Paris is a city where the square meter is quite expensive and by choosing a hotel of this category, you can stay in the center of the city for an affordable price. You will quickly realize that Paris is full of 3-star, 4 or even 5-star hotels, and that in the end, finding a well-placed 2-star hotel is not that easy. The 1-star hotel offers a very low rate but more spartan facilities and services. 
In short, the 2-star hotel is an excellent compromise to benefit from a privileged location while retaining a certain level of comfort.
Our lovely 2 star hotel in the center of Paris : the Welcome Hotel Paris
In the heart of Paris and the famous district of Saint-Germain-des-Prés, come and discover our charming 2-star hotel and its exceptional welcoming. The Welcome Hotel lives up to its name as our staff are known to take care of their guests from the beginning to the end of their reservation.
For its latest classification, the hotel met all the criteria for a 2 star while adding a number of options such as:
Air conditioning 
Reception open 24 hours a day 
Luggage storage 
A well-developed website that facilitates booking
In-room amenities to discover below
At Welcome Hotel, all the rooms are equipped with :
Free WIFI
Individual air conditioning 
Courtesy tray with tea and coffee facilities
Double glazed window and blackout curtains 
Standing mirror and luggage rack 
Private bathroom with shower or bath, hair dryer and welcome amenities 
Flat screen TV with foreign channels 
Safety box
Additional plug, …
Let's click here and book now you know why booking a 2 star hotel in Paris 😉