Many criteria influence the choice of an accommodation: location, price, equipment, welcoming, etc. Each traveler has its own landmarks and desires. Likewise, a business traveler will not be looking for the same amenities as a family with 3 children. So, to help in the decision, customer comments remain a good solution. But you still have to book a hotel with good reviews in Paris Center … 😀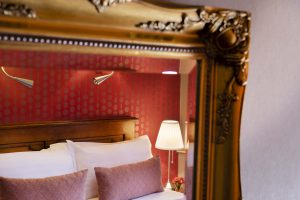 What does a hotel with good reviews in Paris Center mean ?
The location has already been chosen, it will be the center of Paris, and Saint-Germain-des-Prés is undoubtedly THE best idea! Daytime and nighttime activities, cultural and artistic life, literary soul, historic alleys, and more, from Saint-Germain it is quick and easy to reach all corners of the city.
It is important to note that reviews of Parisian hotels are different from reviews in other countries, or even other cities in France. Paris is a historic city with old buildings with atypical spaces. Thus, foreign travelers will always be surprised by the size of the rooms and common areas. Beyond this surface detail, a hotel with good reviews is one that regularly receives positive and sincere reviews. What better advice than that of a host ready to return to their second home! Loyalty can be read very often in good reviews as is the mention of staff. Technical issues can arise in a year-round establishment, but hotel values should be reflected in the reviews.
Book a hotel with good reviews in Paris Center : Welcome Hotel Paris
At the corner of Boulevard Saint-Germain and Rue de Seine, right in the center of the lively Saint-Germain-des-Prés area, the Welcome Hotel welcomes visitors with kindness and simplicity in its 29 very Parisian rooms. All are equipped with free wifi, courtesy tray, individual air conditioning, safe, private bathroom or shower with welcome products, blackout curtains, etc. And the view of the Haussmann buildings promises a total immersion in Parisian life.Breakfast is served in your room, in the dining room or on the pretty rue de Seine terrace from 7:30 am.
If you look at the reviews on websites like Trip Advisor or Booking.com, or even on our official site, three points are clearly highlighted:
Location: simple and direct access to train stations, airports, famous fairs, and public transport.

Neighborhood life and the possibility of discovering the city by walking are wonderful for tourism.

Welcoming : rare are the customers who do not name our receptionists by their first name.

Smiling, professional, available and in love with Paris, they love their job as much as their hosts.

Value : unrivaled in the 6th arrondissement. Ameni

ties, privileged welcome and exceptional location make it one of the most affordable hotels in Saint-Germain-des-Prés.
Let's click here to book a hotel with good reviews in Paris Center.