That's it, it's decided! You have booked your entrance tickets for a temporary exhibition or you will just visit the world's largest museum for the first time! Paris, there you are! Yes, but you still have to book a hotel room near the Louvre Museum, because the museum cannot be visited in 1 hour, far from it. We guide you in your quest … 😀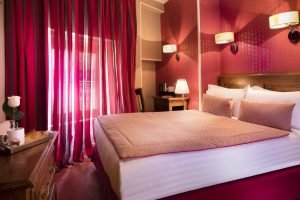 Which district to choose near the Louvre Museum?
The Louvre Museum is located in the heart of Paris, in the very center of the city. To speak of practicality, it is located in the 1st arrondissement of Paris. You can choose to sleep right next to it, or 5 minutes away, on the other side of the Seine river. Just take the romantic Pont des Arts to discover the wonderful district of Saint-Germain-des-Prés. More lively than the 1st arrondissement, the 6th offers a neighborhood life and an incomparable artistic and literary soul! Restaurants, booksellers, art galleries, lively terraces … Saint-Germain-des-Prés is unique. Certainly one of the most popular areas of the city, it is easily accessible by transport from train stations and airports, and allows you to walk around the Capital. Which is a wonderful way to experience the city.
Where to book a hotel room near the Louvre Museum?
Just a 10-minute walk from the Louvre Museum, right in the center of Saint-Germain-des-Prés, is the Welcome Hotel Paris. One of the few 2 star hotels in the area, it overlooks Boulevard Saint-Germain and the charming Rue de Seine from its 6 floors. From the top, the view is simply breathtaking. Haussmannian buildings, zinc roofs, and even the Panthéon, Saint-Sulpice Church or the Eiffel Tower. The Parisian experience is full at the Welcome Hotel.
The rooms, very Parisian in size, are warm and comfortable. All are equipped with free wifi, courtesy tray, individual air conditioning, safety box, private bathroom with bathtub or shower and welcoming amenities, blackout curtains, etc. In the morning, breakfast is served in your room, in the dining room or on the pretty terrace rue de Seine, from 7:30 am. The added bonus of the Welcome Hotel, other than its remarkable value for Saint-Germain-des-Prés? Its amazing welcome! Eric and Koert are cheerful, available, professional and attentive. In addition, they love and know Paris so well that they are perfect allies for a Parisian stay!
Let's click here to book a hotel room near the Louvre Museum.