At a time when environmental awareness is major, the question of eco-friendly trip to Paris is becoming completely legitimate. Indeed, how to combine pleasure and respect for the environment? How can we continue to travel without damaging our planet? Is responsible tourism possible in Paris? Do you have to think about new ideas for destinations with less ecological impact or not necessarily?
The least polluting modes of transport
When we think of travel, planet and sustainable tourism, it is the mode of transport that immediately comes to mind. It is the one whose environmental impact can be the most important. Especially if you travel by plane. Let's take a look at the plane and then discuss the least polluting modes of transport.
What is the impact of plane on the environment?
It is sometimes difficult to realize the impact of a particular means of transport on the environment. To give you a benchmark, the carbon footprint of a round trip by plane from Paris to New York is 1.75 tonnes. According to Greenly, this represents "almost all of the annual emissions to which a French person should limit himself in order to respect the objectives imposed by the government to fight against global warming".
How does the plane pollute the atmosphere?
Short explanation: the fuel of an airplane is kerosene; the latter, when the machine is in full flight, produces CO2, the lifespan of which is approximately 100 years. This CO2 penetrates the lower atmosphere and thus contributes, through its longevity, to the famous greenhouse effect. The greenhouse effect which is directly linked to climate change.
What is the greenhouse effect?
The greenhouse effect is a natural event. The sun's rays reach us to warm the Earth. Then, the thermal radiation is returned to the atmosphere by the surface. However, the greenhouse effect blocks a large part of these rays (95%) and sends them back in all directions. This contributes to warming the climate on Earth.
What are the solutions to make plane less polluting?
Unfortunately, there are only a few solutions to reduce the impact of air flows on the environment. Consideration could be given to reducing air traffic. Indeed, fewer planes in the air would imply less fuel combustion and therefore less CO2 emissions.
Another solution is to use fuel that is less harmful to the environment. Moreover, airlines around the world have pledged to produce zero C02 emissions by 2050. A very delicate promise, but one that relies on the use of sustainable fuels (SAFs). These new types of fuel have a less negative impact on the environment and are made from sustainable raw materials (food, agricultural waste, oil, etc.) or even hydrogen and CO2 captured from the atmosphere. Currently, these sustainable fuels are blended with kerosene since their use in aircraft is limited to 50%.
It is important to specify that these fuels do not produce less C02 during their combustion in the air but it is during extraction that the production is lower. Also, hydrogen flight cannot be considered for long haul flights. Only short distances can be covered.
Which is the least polluting plane ?
Today, the least polluting aircraft is the A-220-300. On the Air France website, we can read that the new machine uses 20% less fuel and produces 20% less CO2 compared to the A3318 and A319.Its design has been optimized with lighter materials, a redesigned airfoil and replaced engines.
How to travel while polluting less?
It is not by using air transport that you will pollute the least, of course, but if you wish to travel from Paris to Buenos Aires, it remains the most practical.
To compare the other modes of transport, let's take the different carbon footprints per person and per km:
Plane : 285 g / CO2
Bus : 68 g / CO2
Car : 55 g / CO2
Train : 14 g / CO2
According to the figures above, it is the train that wins the palm of the least polluting transport. Of course, it is useful to take into account the travel times and the number of passengers. For example, a Paris-Bangkok plane trip for 4 people would have a more relative impact than a car trip for one person.
Organize an eco-friendly trip to Paris
Do your travel ideas take you to Paris and are you interested in responsible tourism? Well, the ecological trip to Paris is quite possible, even very simple to organize.
Stay more in vacation
First of all, once you arrive in Paris, as in any other destination, it is recommended to extend your vacation. It will not seem crazy to you to tell you that taking the plane or the car on a long journey to stay only one or two nights on site, is not very ecological. Thinking responsibly and sustainably means staying several nights in the same place. This reduces the use of the mode of transport and therefore the carbon footprint of your holiday.
Transport on site
In Paris, it is very easy to get around and visit the city without polluting. And yes, ecological transport also exists! Here are the different options available to you:
Walk : what's more ecological than walking? Visiting Paris by walking is so pleasant and the size of the city lends itself perfectly to it. You can stroll through the capital and lose yourself in its historic streets. This is how you come across an architectural gem, a small intimate square or even an unsuspected courtyard.
Bicycle or scooter: Paris offers more and more cycle paths. It is now very easy to reach the 4 corners of the city by traditional bike, electric bike or electric scooter (scooter rental on rentngo)
Public transport: electric bus or metro, the public transport network is particularly extensive in Paris. Visit the RATP website for more information on lines and stations.
Taxi :if you need to call a taxi, consider asking for a Green Cab at taxi G7.
Here are applications or sites that offer to visit the city in an eco-responsible way:
Citygem : a free application to visit Paris on foot, by bike or by scooter. Choose your theme: green, strolls or even architecture and follow the guide!
Parisavelo.fr : on this site, choose your bike, the rental time or opt for a guided bike tour!
Runnin'city : do you prefer to visit the city by running? This application guides you in Paris (or elsewhere) for your discoveries by running, by bike or in a wheelchair.
Eat local
During your stay in Paris, prefer local cuisine and local products. It goes without saying that consuming food from the tropics involves a higher carbon footprint than consuming French products. There are now labels to promote local gastronomy, such as Des produits d'ici cuisinés ici, to eat locally in Ile de France.
Choose a responsible hotel
Accommodation is an important part of your eco trip. So, if you are an ecological traveler, prefer a responsible hotel with a sustainable tourism policy like the Welcome Hotel Paris. We also offer voluntary compensation for the carbon footprint of your trip.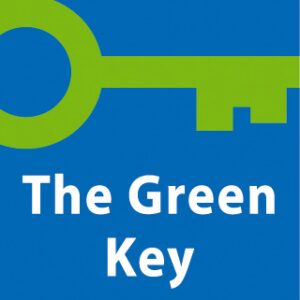 Responsible tourism at Welcome Hotel Paris
The Welcome Hotel Paris has embarked on an ecological shift this year and has obtained the Green Key label. It is totally in line with the new culture of responsible travel for healthier but still quality tourism.
Welcome Hotel Paris in the deep heart of Paris 6
The Welcome Hotel Paris welcomes you in the heart of Paris, in the mythical district of Saint-Germain-des-Prés. It makes it easy to get around without a car, by walking or using public transport. Its very central location allows easy and quick access to the main tourist sites.
The ecological approach of Welcome Hotel Paris
The Welcome Hotel has become aware of the impact of tourism on our planet and has decided to put in place certain measures in the rooms and in the common areas. You can find details of our eco-charter on the Responsible Travel tab of our website.
You will discover our efforts in terms of:
Water and energy consumption
Waste management
Awareness of our guests and our staff (advice to travelers on site and outside the hotel)
Carbon offset (information on your ecological footprint)
Our staff is at your disposal for any further information. And now that you have all the good reasons to come to the Welcome Hotel for your ecological trip to Paris, we'll give you an appointment very soon. Because sustainable tourism, sustainable development or fair tourism are not nonsense.