Planning a trip to Paris is great. We think about the dates, the plays that are being played at theater, the museums that we have not yet discovered, the trendy little restaurants that we could try … And of course comes the choice of hotel and location. The 6th arrondissement of Paris is the ideal starting point for your city break as it is located in the heart of the French capital. It is also one of the most attractive neighborhoods. So how to find a cheap hotel in Paris 6 ? We give you some ideas and an address to keep carefully 😉.
Tips on how to find a cheap hotel in Paris 6
Choose your star category
First of all, it's worth remembering that the number of stars affects the price of a hotel. The more stars the hotel has, the more services it offers and therefore the more its prices will increase. In Saint-Germain-des-Prés, you will see a lot of 3 and 4 stars. There are very few 2-star hotels in the area. Which is a shame because a 2 star establishment, apart from its smaller room size, can be very comfortable for a more than reasonable price. Below you will see the facilities offered by the Welcome Hotel Paris and you will judge for yourself …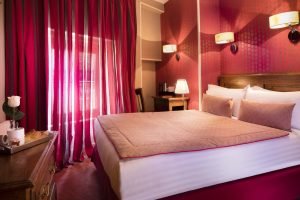 When to book your hotel ?
Like many cities, Paris experiences a certain seasonality. You may be surprised to learn that unlike our provincial colleges, our low season is in summer, January, February and March. It is therefore at this time that we advise you to come to Paris, if you do not have a fixed date of course. Parisians leave the city in the summer season. Paris is very quiet, very pleasant and you can enjoy the museums and restaurants without having to wait in long lines. However, be careful, temporary exhibitions are often interrupted during this period. The beginning of the year, with the exception of major one-off events like Maison & Objet or the Fashion Week, is also a quieter time and a good choice for visiting Paris at low prices.
How to book your hotel room ?
Now that you know that to find a cheap hotel in Paris 6, you can prefer a 2-star hotel in low season, all you need to do is contact the hotel directly. No need to think that booking platforms like Booking.com or Hotels.com will give you the best deal. Since these are intermediaries, the hotelier will offer you much more attractive rates and conditions directly. The updated official site allows you to compare from your computer, but feel free to call or email. So you will clearly explain your research and your needs. The hotelier's response will be quick, precise and professional. 😀
The good idea for your cheap stay in Paris 6 : the Welcome Hotel Paris
In the heart of the famous district of Saint-Germain-des-Prés, at the corner of the typical rue de Seine and Boulevard Saint-Germain, the Welcome Hotel ** welcomes you with friendliness and professionalism. Our small hotel with 29 rooms is a little cocoon with atypical spaces that perfectly combines comfort and simplicity. According to our hosts, it offers excellent value for money in the heart of the French capital.
All our rooms are equipped with :
Free wifi
Individual air-conditioning
Courtesy tray
Double-glazed window
Blackout curtains
Private bathroom with shower or bath and welcome amenities
Flat-screen TV
A Parisian breakfast is served every morning between 7:30 am and 10:30 am in your room, in the dining room or on the terrace.
Let's click here now you know how to find a cheap hotel in Paris 6 😀