Preparing for your trip to Paris is always a pleasure. Choose a theater play, the last photo exhibition to discover, a wine bar to try, … There is so much to do that we sometimes forget the Parisians themselves. And unfortunately, they often suffer from bad press, especially when it comes to hospitality. So, you ask yourself: a hotel with warm welcoming in Paris , is it possible ..? At the risk of surprising you, the answer is yes! Well fortunately! We explain to you what we consider to be a good welcoming, how to be clear about it before booking and we also show you that the Welcome Hotel lives up to its name! 😉
What really means a warm welcoming in a hotel ?
Welcoming guests
First of all, it is essential to clarify what we call a good hotel welcome. Of course, there is a smile on arrival, thoughtfulness even before arriving at the hotel and support throughout the stay. Welcoming does not stop at the doorstep of the hotel. If you have the slightest question, need or even wish, it is important to feel that you can talk to the hotel reception. The team must be available for advice, a restaurant reservation or even to reassure a client on any point.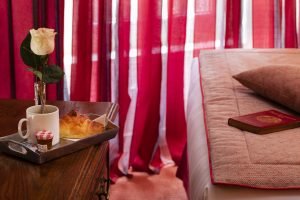 What you usually hear about Paris …
You must have heard many stories about the welcoming given from Parisians like taxi drivers or waiters. But as in all areas, there is everything. And the same is true in the hotel industry. Knowing that people are at the heart of our business, Parisian receptionists are not as rough and cold as you might imagine !! Efforts have been made in this area and you will feel it quite quickly by email or phone before you go directly to the hotel. As for the taxi drivers and the waiters, you will be surprised to be well received, so reputation precedes them. Give us a chance, you won't be disappointed!
How to be sure that a hotel will welcome you warmly ?
To find out if a hotel will give you a warm welcome, all you need to do is read the reviews of previous travelers on the various review platforms or even on the hotel website itself. The reception quality is always mentioned, whether it is very good or not up to par. Indeed, visitors are, rightly, very sensitive to the way in which the staff welcomes them and helps them organize their stay upstream and on site. By reading the reviews, you will easily see the loyalty of the customers, which is a good indicator since if the reception was poor, the travelers would certainly not return to the same place. There are so many hotels in Paris that it is very easy to change each time you visit.
The Welcome Hotel Paris : your hotel with warm welcoming in Paris
Right in the center of Paris, in the mythical district of Saint-Germain-des-Prés, you will discover our small hotel with atypical spaces, the Welcome Hotel. And know that the welcome is not only found in the name of the hotel! Here the receptionists are known and even called by their first names. Our hosts come and come back making sure the team is always there. Eric and Koert pamper customers from the booking to departure. They know and love Paris a lot. Their advices are always greatly appreciated and you only need to read the comments on internet to realize that they are much more than employees at the Welcome Hotel. They are the soul of the hotel. Smile, professionalism, availability and humor. A friendly cocktail that delights solo travelers as well as families and lovers.
Concerning our rooms , all are equipped with :
Free wifi
Individual air-conditioning
Tea and coffee facilities
Double-glazed window
Blackout curtains
Private bathroom with shower or bath and welcome amenities
Desk
Let's click here now you found your hotel with warm welcoming in Paris 😀