Are you planning to travel to Paris soon? Good ! But as a reminder, Paris is made up of 20 arrondissements and a very charming nearby suburb. Then you need to make a choice of accommodation. What is the best area for a hotel in Paris ? Of course, we have our own idea since we are located in the mythical district of Saint-Germain-des-Prés. Follow us, we guide you and we take you straight to the Welcome Hotel Paris. 😉
What is the best area for a hotel in Paris ? The 6th arrondissement and Saint-Germain-des-Prés
Your needs and desires
Paris is certainly not the largest city in the world, but the arrondissements are very different from each other and above all you may have an appointment in a specific place or even want to visit the Pantheon for example. So, determine your needs and preferences in order to place them on a map. If you need to go to a particular address, look at the nearest metro station or nearby public parking, this should help narrow your search. It is the same if you have to go very early to one of the Parisian train stations. However, if you are simply coming to visit the city and enjoy Parisian life, opt for a hotel in the center of Paris.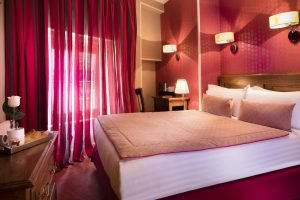 Paris city center
Staying in the center of Paris brings you certain guarantees. Indeed, you can quickly access and walk to the main tourist attractions such as the Louvre Museum or the Eiffel Tower. Less public transport is more pleasant and less time consuming. In addition, walking is certainly the most beautiful way to discover the City of Lights. Beautiful walks in the cobbled streets immerse you in the Paris of yesteryear and it is not uncommon to fall in love with the city after dark, by the light of the street lamps caressing the stone…. Sleeping in the center is a gentle immersion into Parisian life, and what a life! 😀
Parisian life
What we call Parisian life is this way of enjoying moments outdoors, culture, cafes and their terraces, theaters or concerts in the middle of the street, a break in the Luxembourg Garden, a vernissage in an art gallery,…. In short, Parisian life is alive and vibrating all the time in the 6th arrondissement. Take the rue de Seine, the rue de Buci, or the Carrefour de l'Odéon, the rue des Canettes or even the Place Saint-Germain-des-Prés. We drink, we discuss, we think of utopia and we meet again. Saint-Germain-des-Prés is a special place in the heart of the city. Parisians themselves like to spend their evenings, shopping sprees or even nights there.
The Welcome Hotel Paris : in the deep heart of the 6th arrondissement
Ideally located in the center of Saint-Germain-des-Prés, at the corner of rue de Seine and boulevard Saint-Germain, you will discover our small, typically Parisian charming hotel, the Welcome Hotel. Our 29-room non-smoking establishment, cozy and welcoming, is the address you need for a Parisian getaway. A smiling and professional team, an exceptional location and one of the best value in the 6th arrondissement (you will find the best prices directly by email, phone or on the official website).
Served by an elevator, our rooms are all equipped with :
Free wifi
Individual air-conditioning
Courtesy tray
Flat screen television
Double-glazed window
Blackout curtains
Private bathroom with shower or bathtub
Let's click here now you know what is the best area for a hotel in Paris 😀