Are you looking for an instagrammable Hotel in Paris for an instagrammable weekend in Paris ? Look no further, we invite you to come to the heart of Paris to post pictures, reels, stories as much as you want!
Prepare to please, surprise and seduce from the Welcome Hotel. But first, we give you some tips to make your Instagram weekend in Paris a success. Follow us and don't forget the #welcomehotelparis and & @welcomehotelparis 😉
Find an Instagrammable Hotel in Paris for an instagrammable weekend in Paris
Choose an Instagrammable Hotel
An Instagrammable hotel, is an establishment whose decoration, services or even view lend themselves perfectly to Instagram content. Take a picture of yourself in a heated swimming pool, a spa or in front of your window with a sublime view, this is what you can offer to your followers.
But to take it a step further, why not taking a video of the breakfast or even the ambiance of the breakfast room? Choosing a patterned fabric as a background can be very graphic and photogenic. Hotels often have decorative elements that are very relevant to Instagramers.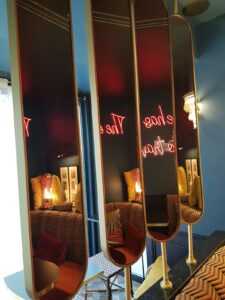 A good instagrammable weekend in Paris
Before even choosing your hotel, and if the purpose of your trip is to create Instagram posts, take an interest in the destination. The countryside offers beautiful landscapes, the beach lends itself well to the outdoors and dreamy photos, and the city offers a multitude of possibilities. In Paris, you will occupy your weekend among historical monuments, trendy cafes, luxury boutiques, art galleries and photos on the mythical Parisian bridges.
Ideas for an instagrammable weekend in Paris
Here are some ideas of the perfect places for your Instagram weekend in Paris :
The so romantic Place Furstemberg
The mythical Pont des Arts with the Louvre Museum on one side and the Institut de France on the other side. Think of daybreak, the light is sublime
The bouquinistes along the Seine river
The Café de Flore or Les Deux Mogots for a coffee or a croque-monsieur on one of their terraces
The intimistic Passage du commerce Saint-André
The Cour Carrée of the Louvre Museum, superb, and with if you are lucky, you will enjoy an improvised violin concert in the background
The legendary green chairs of the Tuileries Garden or Luxembourg Garden
The entrance of the Palais Royal – Musée du Louvre metro station facing the Comédie Française
Which area for an instagrammable weekend in Paris ?
You will understand from the ideas mentioned above, it is essential to choose a central location for your Instagram weekend in Paris. Saint-Germain-des-Prés is the perfect district to enjoy the city at any time of the day or night. In addition, you can get around easily on foot or by transport. In the evening, life in the neighborhood is exceptional: wine bars, gourmet restaurants, piano bars, etc. You will find your happiness to photograph but also to live!
The Welcome Hotel Paris : an instagrammable Hotel in Paris for an instagrammable weekend in Paris
The Welcome Hotel Paris is located in the heart of Paris and the wonderful district of Saint-Germain-des-Prés. 5 minutes from the Odéon metro station, it offers unrivaled value for money in the 6th arrondissement. Its 29 rooms all have a view of the rue de Seine or the Boulevard Saint-Germain, and are equipped with:
Free wifi
Flat screen television
Individual air-conditioning
Tea and coffee facilities
Double-glazed window
Blackout curtains
Private bathroom with shower or bathtub and welcome amenities
The Insta + of the Welcome Hotel Paris
Trust us, you will have many Instagram ideas as you enter the new lobby of the Welcome Hotel Paris. Here are some Insta points you should not miss :
The breakfast room, its bench and its red neon
The yellow armchairs in the entrance hall
The photos of Paris in their golden frames
The interior terrace and its Parisian brasserie furniture
The large mirror in front of the elevator
Oscar, the dog standing still near the stairs
The breathtaking view from the rooms, on Parisian buildings
The Junior Suite
The bar (opening soon)
We don't tell you everything to let you express your creativity on social networks …
Let's click here and book your Instagrammable Hotel in Paris for an instagrammable weekend in Paris 😀